Internship Opportunities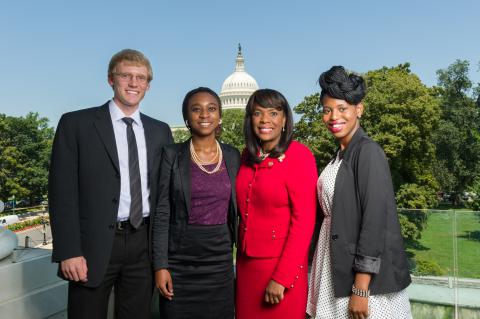 Washington, D.C. and District Offices
Congresswoman Terri Sewell will soon applications from highly motivated students and recent graduates to join her Washington, D.C., Birmingham, Selma, Montgomery, or Tuscaloosa offices as full-time interns for the Winter/ Spring of 2020. Interns will work in a fast-paced Congressional office, gain valuable legislative or communications experience, and learn more about how Congress works.
Intern Responsibilities
Main responsibilities include, but are not limited to: assisting Congressional staff, performing research, compiling media mentions, answering telephones, processing mail, and general office responsibilities.  Interns will also have the opportunity to attend special events, such as committee hearings, press conferences, legislative briefings and seminars. 
Qualifications
Candidates should be proactive, professional, dependable, and have an interest in the legislative process. Qualifications also include: excellent oral and written communication skills, the ability to multi-task, attention to detail, and a willingness to learn. Applicants must have a 3.0 GPA or higher, be enrolled in or have graduated from college, and be 18 years of age or older.
Compensation
Washington, D.C. interns are eligible for a $1,000/month stipend.
To Apply:
Candidates with Alabama ties are strongly encouraged to apply.
Please fill out our online application here.
Upon completion, please e-mail the following to sewell.interns@mail.house.gov:
A current resume
Cover letter
Writing samples (select two of three options below):

A 150-word excerpt from a paper you have submitted recently in your coursework
A 500-word memo to legislative staff on an issue area of interest to you (ex. income inequality, domestic violence prevention, immigration reform, financial literacy, cybersecurity, education, energy policy, etc.)
A 500-word article from a college newspaper or other publication.
Please note which office you are applying for (Washington, D.C., Birmingham, Montgomery, Selma or Tuscaloosa). No calls or walk-ins please.
Applications are accepted on a rolling basis. 
Majors/Career Fields:
Internships are open to all majors and designed for undergraduate students and recent graduates with an interest in public service.