Evening Wrap Up (Nov 7): Tax Bill Markup Highlights
SUMMARY
On Tuesday, the House Ways & Means Committee continued marking up the Ryan-McConnell Republican tax bill. Congresswoman Terri A. Sewell (D-AL) offered an amendment creating a tax credit encouraging employers to offer apprenticeships and to hire workers who have completed their training. Democrats also offered amendments restoring the adoption tax credit, creating parity in state and local tax credit for businesses and individuals, and more. All seven amendments offered by Democrats on Tuesday were rejected by Republicans on a party-line vote.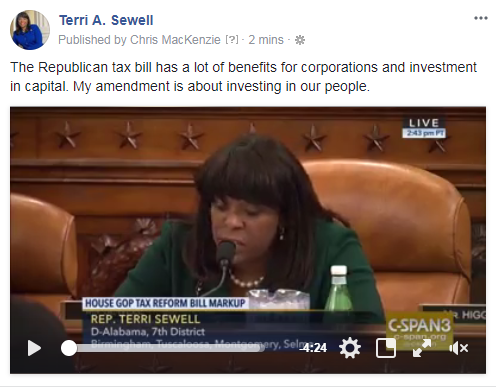 REMARKS & QUOTES
Rep. Sewell Introduces Workforce Development Amendment (WATCH NOW):
"My amendment is the type of bipartisan incentive that the tax code needs to lower the cost of training for employers, and encourage the type of investment in human capital that is desperately needed in our workforce. Left unaddressed, unfilled middle skills jobs will go to other workers in other countries because we have fallen behind in our investment in the preparation and development of our workers."
Rep. Sewell Shares Constituent Stories on Adoption Tax Credit (WATCH NOW):
"The fact of the matter is that over 1,000 adoptions occur every year in the state of Alabama, and most of those families receive the adoption tax credit. So many of those families have flooded our office with calls for the last day or so. I wanted to read for the record some of the comments that my constituents have made."
Rep. Sewell Questions GOP on State and Local Tax Deduction (WATCH NOW):
"Why is it that our colleagues on the other side won't answer the questions, why are you willing to take away the state and local tax deduction from middle-class families but not willing to do the same for businesses? As I said in my opening statement, this is about values. What do you value? What they're saying is that they would rather value businesses over middle-class and working families. That's unacceptable."
WHAT TO EXPECT TOMORROW
The Ways & Means Committee will continue consideration of the Republican tax bill tomorrow. Rep. Sewell will offer amendments to protect the New Markets Tax Credit and the ability of state and local governments to save taxpayer money by refinancing debt. Consideration of amendments to the Republican tax bill is expected to go into the night on Wednesday.
###
Rep. Terri A. Sewell (D-AL) is serving her fourth term representing Alabama's 7th Congressional district. She sits on the House Permanent Select Committee on Intelligence and was recently appointed to the powerful House Ways and Means Committee. Sewell is a Chief Deputy Whip and serves on the prestigious Steering and Policy Committee of the Democratic Caucus. She is also a member of the Congressional Black Caucus, and serves as Vice Chair of the Congressional Voting Rights Caucus, and Vice Chair of Outreach for the New Democrat Coalition.