"As the daughter of two longtime educators, I know that education is the great equalizer. Education has been and continues to be the single best avenue into the middle class for individuals across my district."

-Congresswoman Terri A. Sewell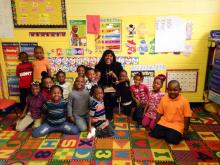 A successful workforce starts with a solid education base. As a product of public schools and the daughter of two educators, I know firsthand the difference that a strong education can make in achieving the American Dream, regardless of race, gender, or socioeconomic background. Improving education can help break the cycle of poverty that affects families all across west Alabama. Children from every background and every walk of life deserve the right to reach their full potential. With that in mind, we must expand our efforts to involve positive role models in the lives of our youth, we must enlist community and business leaders to go into our schools and deliver a message of commitment, responsibility, and hope and we must work to create jobs through innovation, education and training. When our communities unify, our families are strengthened, economic opportunities are created and our children are better prepared for the future.
Check back in the coming week for updates concerning my work and views on education. For more information in the meantime, please contact my Washington, DC office. I look forward to your feedback.
Thank you.
More on Education
September
2017
August
2017
June
2017
February
2017
April
2015
December
2013
November
2013
July
2013