"We must never forget the precious gift of freedom that is preserved because of the dedication and courage of our nation's service members. We owe them a debt of gratitude."

-Congresswoman Terri A. Sewell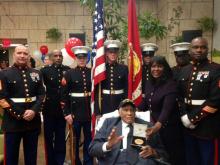 Check back in the coming week for updates concerning my work and views on the veterans.
I look forward to your feedback.
Thank you.
More on Veterans
February
2015
November
2013
October
2013
March
2013
February
2013
November
2012